HEXONET's first international office brings newest innovations in domain services closer to Internet resellers, startups, and ISPs in North America and South America.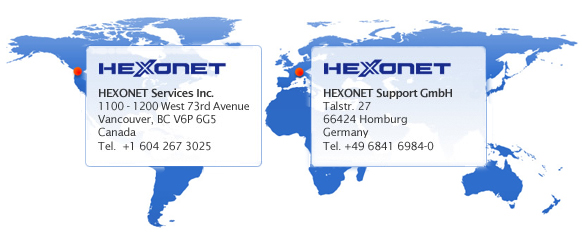 Vancouver, CANADA - March 1, 2009 - HEXONET GmbH (www.hexonet.net) today announced the opening of a Canadian subsidiary HEXONET Services Inc.

Having thousands of resellers worldwide (with a significant number of them in the Americas), the demand for a regional office was mounting. North American resellers and businesses are some of the most aggressive companies in the world when it comes to innovation and developing new business models. HEXONET's domain infrastructure renown for its performance, reliability, and, especially, for its ease of integration, has been the primary reason why HEXONET has seen such rapid growth on the American continent.

The Vancouver office will serve to channel the company's most innovative technologies to resellers across Canada and the United States. At the forefront is HEXONET's EPP 1.0 Gateway platform, which makes it possible for any reseller or ISP to quickly offer hundreds of Top-Level-Domains (gTLDs like .COM, .NET, .ASIA, .INFO or country code Top-Level-Domains like .UK, .BE, .CN, .US, etc.) from one provider. Though ccTLDs are in high demand, many such TLDs have not been available to the public since resellers don't have the time or energy to implement hundreds of proprietary connections for each and every ccTLD. With HEXONET and EPP 1.0, one connection with HEXONET gives resellers access to hundreds of ccTLDs!

HEXONET's bold expansion activities also coincide with the arrival of domain industry expert, Robert Birkner, as Chief Strategy Officer and President of HEXONET Services Inc. According to Jens Wagner, CEO of HEXONET, "the appointment of Robert sets the stage for HEXONET's global growth and expansion. He brings proven industry success and has the greatest respect from registrars, registries, and resellers across the EU, the Americas and as far away as Asia and Australia."

Robert has served as an executive and advisor to many of the top companies including Key-Systems, DomainPeople, Hostway, and, recently, for one of the newest registries dotME (DoMEn). According to Robert, "innovation and automation is the key to success in our industry; and it is for this reason, I have joined HEXONET. It is the same reason why thousands of resellers have chosen HEXONET as their domain platform of choice. As important, is the opportunity to work with Jens once more. Rare is it to work with someone with as much passion for technology than he has. Jens inspires me as well as everyone else at HEXONET."